Ultra Grip Superhero Leopard V-String Leggings
Product no.: UltraGrip-Leg
75,63 EUR
The newly released ULTRA GRIP Superheroes Sticky Polewear is the more grippy version of than the extremely popular original Sticky Pole Wear collection in the signature leopard print from Paradise Chick.
The Ultra Grip legging is not recommended for slides. It is too grippy for this. The strong grip makes it perfect for poledance in spinning mode.
If you would like to perform slides and have some grip similar to natural skin while having more coverage during pole dance, the Original Sticky V-String Leggings will be a more suitable choice.

Premium quality and handmade in Greece.

Features:
~ Grippy Material
~ Breathable & Elastic Fabric
~ Signature pattern and designs
~ Comes in various colours
~ Designed to fit like second skin
~ Avoid pain and cold on the pole

Material:
Black/red: 92% polyester | 8% elastane
Beige: 80% polyamide | 20% elastane

Please follow the washing instructions before first use: Wash the leggings in the washing machine with liquid detergent and liquid fabric softener at 60 degrees for at least 1 hour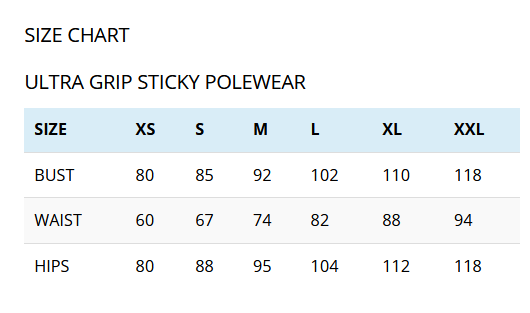 Customers who bought this product also bought the following products:
Very good quality, fits great!
Ultra Grip Superhero Leopard Crop Top
49,41 EUR
incl. 20 % VAT excl. Shipping costs
Sticky Superhero Leopard High Waist Leggings
65,55 EUR
incl. 20 % VAT excl. Shipping costs
Sticky Superhero Aztec Leggings
102,86 EUR
incl. 20 % VAT excl. Shipping costs
---
Other products of the same brand