Sticky Superhero Leopard High Waist Leggings
Product no.: stickyleg
59,50 EUR
Breathable & elastic fabric with hi-tech silicone designed to fit and feel like second skin.
The Original Sticky High Waist leggings are designed to mimic the feel of natural skin on the pole. It provides some grip but allows sliding, so it is perfect for slides. Now you can pole with more coverage!
For those looking for leggings that are much more sticky, require much more grip and pole mostly in the spinning mode, the Ultra Grip Leggings are a better choice.
Get on the pole and stay off the floor without pain and without the cold. =)

Designed with a V-String pattern on the back to enhance your shape.

Exclusively handmade in the EU.

Care instructions: Handwash cold with mild detergent.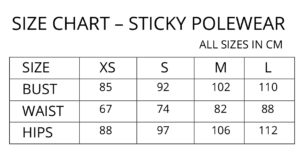 Customers who bought this product also bought the following products:
There are no reviews yet.
Other products of the same brand