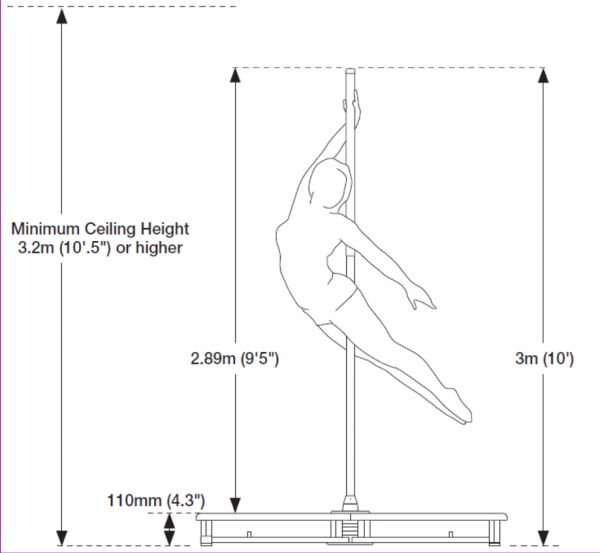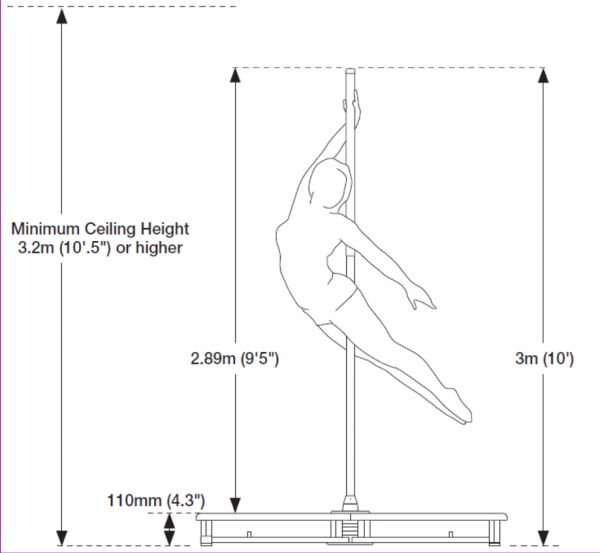 X-Stage Lite
Product no.: NST04LT-
1.008,40 EUR
The X-Stage Lite is a free standing portable pole dance pole for dancers that perfom on stage and can not rely on a flat ceiling being available. This pole is suitable for outdoor performances and is the most universal of all dance poles. It can be assembled in a few minutes, and either be used as a spinning or static pole. The dancing stage, on which the X-Stage stands, is circular, 1.6 m in diameter and has no sharp edges or corners. The pole itself is 3m tall. Since the X-Stage Lite is a freestanding pole and also ensures maximum safety in demanding moves, it is heavy. Therefore, the carry bag has wheels for comfortable transportation. The X-Stage Lite meets the highest standards in clubs, fitness centers, fairs, shows and is the most technologically advanced pole currently available in the market.
X-Stage Lite Features
spinning and static pole - easy to switch
1.60 m (5'3 ") circular stage floor - an ideal dance floor
Rounded edges – safe for the dancer
Stability - Extremely stable, almost every move can be made ​​without needing extra weight
Weight holder - allows optional weights to be attached
Adjustable feet - to minimize the movement of the pole on uneven ground
silicone pads under the feet - to prevent slipping on smooth floors, and damaging or scratching the floor
Fully foldable - frame fits into the bag on wheels included
Easy assembly - 6 floor panels are easy to install, no tools required
pole easily separated into two pieces for transportation
Carry cases with wheels - for easy transportation
New NST04LT Version offers:
'Quick-Set' stabilising feet
Re-designed roller carry case

Specifications X-Stage Lite
Pole diameter 45/50mm
Stage diameter 1.6m (5' 3")
Overall height 3m (10') - 3.2m height clearance required
Stage height 110mm (12.5')
Useable pole 2.89m (8' 10")

Weight (approx.)
X STAGE Lite complete 85kg
Main frame 20kg
Stage panels 40kg
Pole tubes 10kg
Can I use the X-Stage Lite with a ceiling lower than 3.2 meters?
Yes, the X-Stage Lite consists of 2 parts, each 1.5m long. The upper part can be replaced by a normal extension (New Style 2014). For instance, if your ceiling is 2.55m high, you can assemble the X-Stage Lite with a 1 meter extension with the bottom part to reach 2.5m.
1.5m + 1m = 2.5m height
How much space do I need from the X-Stage Lite to the ceiling to be able to set up the pole?
About 3cm of space is required above the X-Stage Lite to set up the pole. If there is little space to the ceiling, you can set up the stage as follows: First, you do not build the entire stage, but only a semicircle (3 base plates). Now you can tilt the stage on the straight edge thus created and insert the pole into the bearing of the stage. Then you put the pole upright again and you can set up the other half of the stage.
For this item, additional shipping surcharge will apply.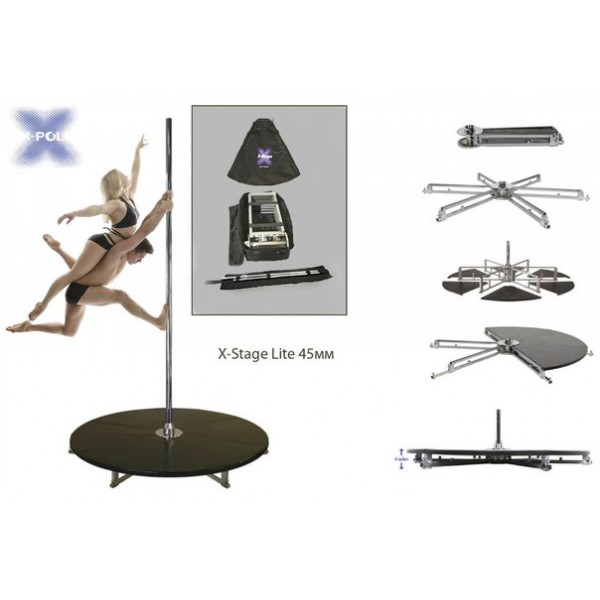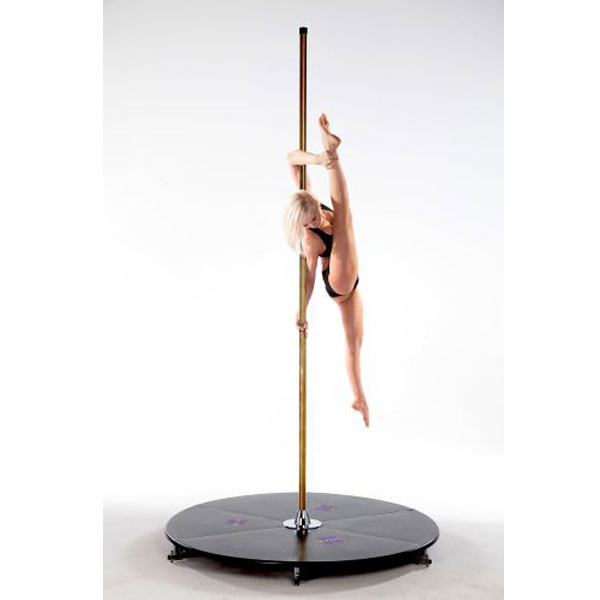 Above: X-Stage Lite in Brass

Customers who bought this product also bought the following products:
Super stabil, braucht nicht zu viel Platz, kann also drinnen und draußen aufgebaut werden, und macht so viel Spaß
Easy to install, delivered with all the bags. Absolutely happy with it!
Fantastic, strongly built, easy to assemble (well, once you've done it once, haha!). I'm using the pole to train at home. I would recommend the product to anyone wishing to train - especially those who have lower ceilings where other studio poles cannot be installed.
Other products of the same brand